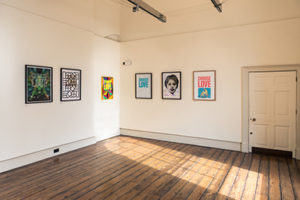 In January 2019 Print Club London invited 30 artists from around the world to produce an original one-off print for their summer show at Somerset House in London. I'm pleased to say that I was one of the 30 artists selected for the exhibition. Other artists included Anish Kapoor, Sara Pope and Dan Hillier.
The purpose of the exhibition was to raise funds for the charity 'Help Refugees,' with proceeds from sales going directly to the charity.
In 2018, the exhibition raised over £50,000 for 'Help Refugees', who "fill the gaps and act where others won't" in the global refugee crises. Whether that's enabling search and rescue or simply providing food and shelter for thousands of displaced human beings.
The exhibition brief-'To create an image around the theme of Love incorporating fashion designer Katharine Hamnett's infamous 'Choose Love' logo, a play on her iconic 'Choose Life' logo from the 1980's; made famous by pop stars such as George Michael and Boy George; who proudly wore the logo across T-shirts in an array of pop videos.
My work often harnesses the spirit of the sixties and seventies and harks back to the Hollywood glamour of yesteryear. A time when 'celebrity' had real meaning and glamour had both class and dignity.
I was drawn to an image of Sofia Loren that wreaked of classic Hollywood glamour and style.
It felt like the perfect starting point and I was soon adding washes of retro colour and subtle metallic washes to her hair, the end result was a six-colour screen print.  I later created a second 'special' edition adding washes of metallic eye shadow to the image, drawing on the legacy of retro Hollywood when Elizabeth Taylor and Marilyn Monroe strolled down the lot.
I'm pleased to say that my print sold within a few days of the opening, raising much needed funds for the charity 'Help Refugees.'