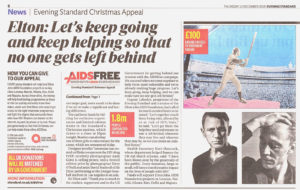 As many of you might be aware, during the lead up to Christmas 2018; The London Evening Standard launched a major campaign called 'Aids Free.' The idea being to raise awareness surrounding the disease, dispel stigma and increase levels of understanding, as well as raise money for a worthy cause.
Following a meeting with 'Elton John Aids Foundation,' I decided to donate a co-signed artists proof as well as a non-co-signed print to the auction in order to raise money for 'Elton John Aids Foundation.'
I created 'Elton John; Home Run-Dodger Stadium 1975' in 2018. The six colour, diamond dust encrusted screen prints are a re-working of British photographer Terry O'Neill's photograph of Sir Elton John performing at Dodger Stadium in 1975. I created an edition of 50 prints, a small selection of which were co-signed by Sir Elton John and Terry O'Neill.
Terry was given sole access to the sold-out concert, also famously played by the Beatles.
It's a venue steeped in history and has been immortalised by 'Two Days that Rocked the World,' a book by Ray Cooper.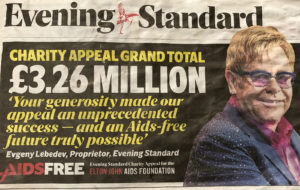 After further discussions with the foundation I also offered to create a bespoke set of giclée prints; also with added diamond dust. The idea behind the giclée was to offer evening standard readers a smaller but more affordable version of the original set of silk screen prints created in 2018.
In the lead up to Christmas, several 'Aids Free' London Evening Standard auctions took place. It was at one of the primary auctions that the co-signed screen print 'Elton John: Home Run Dodger Stadium 1975' raised an incredible £12,301.
Since the auction of the co-signed artists proof, the non-co-signed screen print and a number of smaller giclée prints have also been auctioned through the evening standard.
A total of £3.26 million pounds was raised during the Aids Free campaign, making it the Evening Standard's most successful Christmas charity auction event in history.
David Studwell