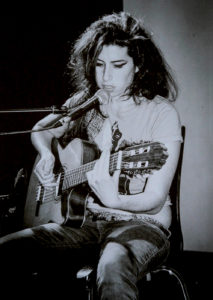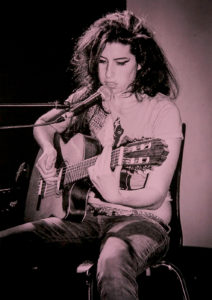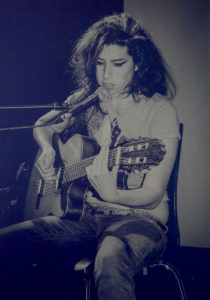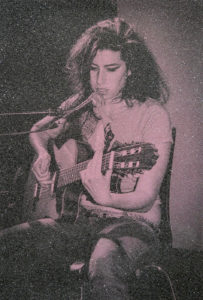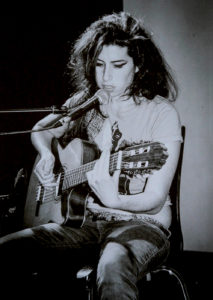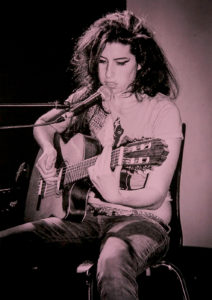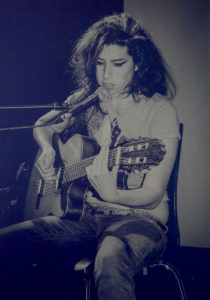 During 2019 I met British photographer David Katz at an exhibition of his work in Camden; London. David Katz suffers from albinism and is legally blind. Albinism affects pigmentation in the retina which is essential for normal vision. David somehow managed to carve out a career as a tabloid photographer for twenty years in London, whilst keeping his disability a secret. It was one of the best-kept secrets on Fleet Street. "If anybody found out that I was legally blind, that would have been the end of my career."
David photographed dozens of celebrities including David Beckham, Elton John, and Amy Winehouse; as well as political figures such as Barack Obama and Margaret Thatcher, he was even appointed as Tony Blairs personal photographer for a period. Whilst at the London exhibition I discussed with David the possibility of collaborating together on a new screen print edition.The photograph David took of Amy Winehouse on the brink of success at a pub in Camden had caught my eye and I saw real potential in the photograph.
The image showed an innocent and naïve talent on the edge of fame; about to be catapulted into superstardom. David was the only photographer allowed access to the gig and remembers a disgruntled Winehouse. "People were talking over her performance and although she had a reputation for being explosive; she politely asked them to be quiet. The interruption continued and after asking a second time; she unplugged and left the stage."
Shortly after meeting David I was back in the studio and began work on the new Amy Winehouse screen print edition. I decided to create four different editions of the image in order to give buyers and collectors breadth of choice whilst keeping the editions small; in turn making the work more desirable and personable. I chose colours that were both masculine and feminine; I wanted to accentuate the vulnerability in the photograph using pinks whilst showing strength and steeliness in the blues and greys. I decided to turn one of the editions into a special edition; by adding diamond dust, resulting in a striking and beautiful piece of work. The diamond dust in the special edition evokes a sense of glamour and beauty often found in the singers music. I also wanted to reflect the 'Britpop' of the 90's and echo the heady days of the Camden Town music scene.
David now runs the David Katz Foundation; which raises funds for children with visual impairment. "I kept my disability a secret during my career so that I could get to this day and speak publicly about it; to help children with visual impairment."
David has spoken about visual impairment and albinism extensively on BBC News, Ted Talks and social media, increasing the charities profile and raising much needed funds for the foundation. It was agreed during our collaboration that a percentage of sales from the Amy Winehouse screen prints I created would go to the foundation. Every screen print sold from the edition therefore helps to raise much needed funds for the David Katz Foundation. The money raised will provide support to people with all forms of visual impairment and establish a network of counsellors for children with visual impairment and their families. The aim of the charity is to also educate the public, bring about change in public attitude and remove old stigmas surrounding visual impairment.
"The charity aspect of the collaboration brings an added human element to the project and was something that myself and David implemented at the very beginning."